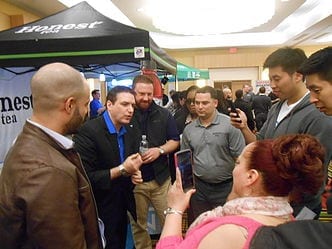 Success at your next trade show!!
Would you like your booth to stand out from among all the rest at your next trade show? Would you like a mechanism to stop people in their tracks that would normally walk right by your booth? Would you like those same people to rush over to your sales people to give you all their information?  If you answered yes to any of the above question, then you have come to the right place!
Chris Anthony specializes in helping companies increase their return on investment at trade shows by increasing their booth traffic, lead capture, and sales.
            Chris uses a combination of psychology, physiology, slight of hand, aspects of mind reading in an entertaining way, to attract huge crowds to your trade show booth.
            Once the crowd is at critical mass, Chris conveys your unique message in easy to understand terms, highlighting the features and benefits of you product or service in a customized presentation, then he will move the crowd to your sales people where lead generation takes place.
Benefits of having Chris at your booth:
Chris creates excitement in your booth.
Stops Traffic.
Promotes the features and benefits of your products and services.
Generates leads.
Create a huge presence on the trade show floor.
Increased ROI
You need a mechanism to make your booth stand out from the crowd. Chris is that mechanism. Call for a consultation today!!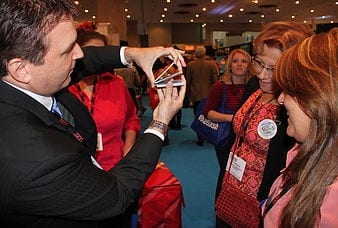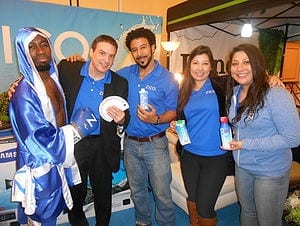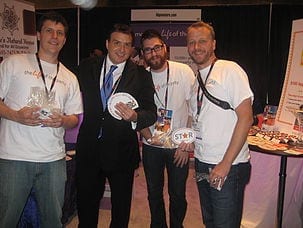 I am so happy with the decision I made to have Chris in our booth at our recent trade show. He not only learned what our company did in five minutes, he pretty much sold it. Chris has a very high energy level and worked the entire time. He must have done 20 performances in one day consisting of 5-10 different tricks each. The tricks were incredible. He had the crowd amazed. When I say crowd I mean crowd as our booth was packed when he performed. I would highly recommend Chris for any occasion. He was so good I actually offered him a sales job. Keep up the good work Chris. I will be calling on your services again
 GigMasters exhibited at BizBash, an event planning tradeshow. Chris Anthony joined us in our booth to perform throughout the day. He was nothing short of incredible. He is an extremely talented magician. The crowd absolutely loved him. He would captivate attendees and was always surrounded by amazed individuals. Aside from his mind-blowing magical skills, Chris also acted as part of our team. He was talking to attendees, informing them about GigMasters and helping us make many great contacts. He had a great way of incorporating the GigMasters brand message into his magic. He is the ideal performer for any company looking to add unique flair at a tradeshow!   
I recently hired Chris for an important corporate trade show with a large NYC based beverage distributor. I was incredibly satisfied with his professionalism, ability to work a crowd and jaw dropping craftsmanship as an illusionist. He also took the time to understand my business objectives and catered his act specifically to the brand messages of my product. Chris is a great guy. He was absolutely AMAZING to work with, and I would highly suggest him for any event.
Phenomenal Trade Show Magician!
Chris Anthony is absolutely one of the best trade show magicians I have ever seen (and I have dealt with many over the past 15 years!). Not only can he effortlessly draw in a huge crowd to your booth, but he makes each and every spectator feel important, and stimulate interest in your company. What a pleasure to work with. He's friendly and has great style – what an asset to any company! If I could give him 10 stars I would!