Making Corporate Events Memorable
Boost your company's image with event entertainment that includes a spectacular magic show brought to you by Chris Anthony Magic in Arlington, New York. Whatever the occasion is, Chris will be ready to come to your location and provide the entertainment that you need for you and your employees!
​
Blowing Minds Away
Hard-hitting, fast-paced, and coupled with quick wit, Chris's magic has often been described as "beyond belief" by audiences. Chris usually uses two types of magic: strolling magic and stand-up mentalist act. Strolling magic involves walking around from group to group and using sleight of hand effects, as well as close-up magic. On the other hand, Chris's mentalist act involves one hour of mind-reading.
Book Chris Today
You can count on Chris to leave your guests feeling amazed and spellbound with his magical effects. Simply email him today to discuss your specific needs for your event. Chris will then determine the logistics and provide you with an estimate. Rates depend on the size of your event, travel requirements, and the duration of the service. Typically, Chris accepts bookings with at least an hour of his services for every 50 people.
A few reviews from companies who have used Chris for their events:
Thank you Chris Anthony for adding such great entertainment to our company event. Your great sleight of hand and mind tricks were amazing and everyone was left wondering "How did he do that??" You're a great entertainer who not only amazed us with your tricks but made us laugh hilariously in the process.
I would not hesitate to recommend you to anyone looking for great entertainment.
We hired Chris for our corporate holiday party. While working with Chris before the event he was professional and always got back to me in a timely manner. He showed up a little early to our party and started working right away. He was excellent and surprised everyone with his magic. I had hired him for an hour and a half and asked him to stay longer as everyone wanted to see him perform and our guest list was larger than first expected. No one wanted him to leave until they saw his magic, word was getting around the party how good he was. The next day I heard from employees how amazing Chris was and on top of that how nice and friendly he was.
I cannot believe how easy it was to book our last minute request. I submitted a req the day of our event and had finalized details with Chris within the hour. Chris arrived promptly, was extremely professional, and was just the pick-up our corporate event needed. Our event was a large crowd, but Chris managed to entertain everyone with his amazing talent and personable character. Our event was quite the success with rave reviews regarding Chris. I would recommend his show to anyone and would love to invite him back when given the opportunity!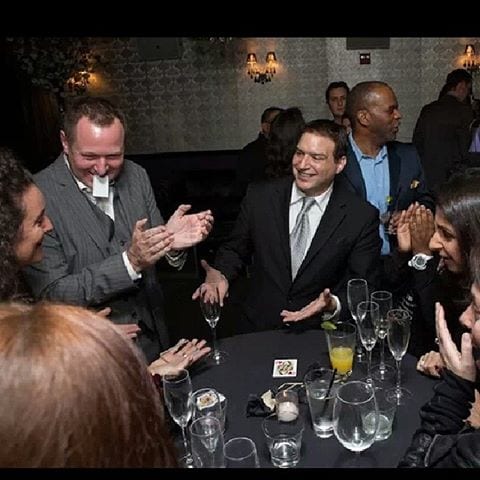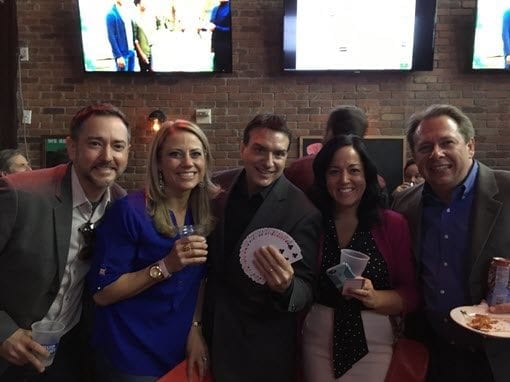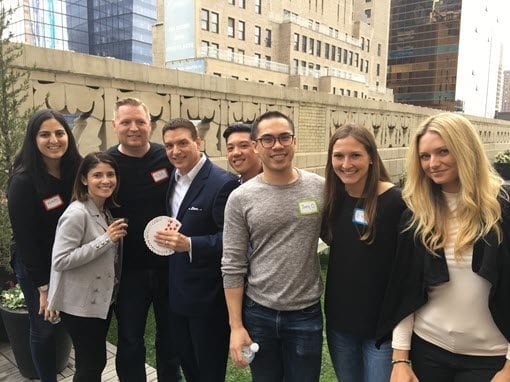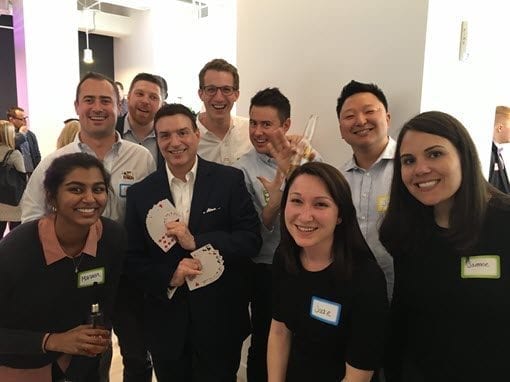 Chris performed at our annual corporate awards dinner/cocktail reception and was truly outstanding. He made the extra effort to get to know the client and even customized some tricks to include our logo. He was "magical" in the room and engaged all of our attendees.
"I would highly recommend Chris Anthony for any occasion, corporate or private, as he far exceeded my expectations and completely impressed me overall. Prior to this event, Chris was easily accessible and always responsive to all of my inquiries which put me completely at ease. He arrived well ahead of schedule, despite travelling over 100 miles, which gave us plenty of time to go over any last minute details. This was a corporate event and Chris was well prepared and extremely professional in both his performance and his appearance. His mentalist performance was sensational, leaving the crowd wondering… how does he do that?
We were so impressed on the night by his abilities but also in terms of mingling with the crowd. It was a corporate event so there was a lot of pressure to make sure not only we had a fun time but that it was authentic & not a 'cheesy' experience. We were so happy with the evening & we had such great positive feedback from our clients that we would highly recommend Chris.. It was quite a tricky crowd from conservative to less so and Chris found it easy to connect and also surprise them, which was great to see! It was a great night all around and having Chris there made sure they will remember the night…& to think we nearly didn't do it!
Wonderful performance!
Chris Anthony did a wonderful job entertaining Macy's Senior Vice President's at their holiday dinner. Everyone loved his magic tricks and they all highly recommend him as a amazing corporate magician.
"I was very concerned being I was trying this for the first time with a client. Now I would tell you that Chris Anthony blew my entire night away with his magic and mentalist routines. He did walk around for an hour and stage for an hour and he captivated the entire place for the two hours he was here! It's been 3 days and everyone is still talking about him. Not only do I plan on using Chris again, I would highly recommend him for any corporate function where you are trying to impress!!! His professionalism and talent are both extraordinary as well as being a very nice man!"
On behalf of all of us at beautiful Belmont Park, I would like to thank you for helping make the Belmont Stakes Press Party a wonderful success.
Our guests were dazzled by your sleight-of-hand, mystified by your card magic, and enchanted by your legerdemain. The following day, people were still talking about your magic and asking if you would be returning for next year's event. Of course, I said yes!
Again, thank you for a job well done.
First Year – I just wanted to thank you again for the unbelievable job you did working the room at my firm's holiday party. You were completely professional and completely amazing! We look forward to having you back again next year.
Second Year – You were on fire last night, my friend. Your close up stuff is amazing, and you do a great job of working the room. Thanks for everything. We'll see you next year.
Great level of service provided with a few days notice! The need to hire a magician for our event came up less than a week before our event (ca. 150 guests), and we were a bit desperate. Finding Chris was a huge relief, and he was fully committed to deliver a good service from the first contact. He showed up on time, started working immediately, and of course entertained the guests with a professional touch.
Chris is reliable, and nothing but outstanding!! I hired Chris Anthony for a corporate lunch for some lite entertainment while everyone enjoyed their lunch, and Chris wow'd everyone. After everyone was done eating, everyone circled him to watch his act. I was worried that Chris would cancel due to the bad weather that hit us this past weekend but he was there and about 2 hours before scheduled to just make sure he wasn't late. His professionalism was great and he was dressed very sharp, perfect for a corporate event. I would definitely hire Chris again and would recommend him to anyone.
"This year I was tasked with planning our work group's  holiday party and had the idea of hiring an illusionist/magician for our entertainment. After reading various reviews and connecting with several illusionists I chose Chris based on what he had to offer – 1 hour group performance and then 1 hour close-up performance at our various tables – his reasonable fee and also just his whole pleasant demeanor. He absolutely made our party a huge success and I have been told over and over again that the party this year was the best we've had! We were amazed by his magic which left us in complete awe and laughed like little children with the magic that included us when he performed at our tables. All you heard over and over again was "How did he do that!" His sense of humor was perfect…not offensive in any way… and definitely added to his whole performance.  Everyone enjoyed themselves so much and his card was requested by many who hope to hire him for their own private events….he was that good! Thank you Chris for making our holiday party an absolutely unforgettable experience that I'm sure we will be talking about for years to come. I actually pity the organizer of next year's holiday party because it's going to be tough topping this! "